IMAGINATION ON THE LOOSE!

LITERACY THROUGH STORYTELLING, POETRY AND WORDPLAY
Nathalie effortlessly creates stories to spark the imagination and in the realm of story anything is possible!   The wise ant, Bamboo has a wild hairdo, Mirabelle's dress holds magical powers, the shadow gods are creating mischief in the village, the mountain has lost it's spirit, Edgar forgot his shoes and Madeleine is having a most unlucky morning…
Follow Nathalie as she spins original tales that will engage, inspire and tickle the funny bone.  This mesmerizing storytelling performance takes the audience on an interactive ride through modern day fairy tales (with a twist), adventures all in rhyme, folktales from around the world, creation stories and so much more.  With audience participation, songs and wordplay, students will fall in love with storytelling and see that stories are in fact everywhere!
WORKSHOP PLUS PERFORMANCE  – Stumbling upon a Story
The blank page offers a world of endless possibility – a monster that is afraid of people, a river that longs to be a little boy. This workshop plays with language, reaffirms the fun of grammar and empowers students to be storytellers with a capital S!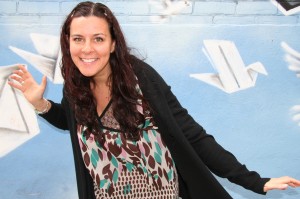 GRADES: K-3, 4-6
(Performance) &
4-6 (Workshop)
Audience Maximum:  100  
PRICE PER PERFORMANCE:
$300 + HST
PRICE FOR 2 PERFORMANCES PER DAY:
$468 + HST
PRICE FOR 3 PERFORMANCES PER DAY:
$624 + HST
PERFORMANCE AND WORKSHOP:
$624 + HST
TOUR AVAILABILITY:
limited year-round
CURRICULUM FOCUS AND EXPECTATIONS:
THEMES:
Storytelling, story writing (inspiring a love of words, writing and imagination) folktales, fairy tales, creation stories from various cultures
CHARACTER EDUCATION:
Friendship, kindness, respect, inclusion, teamwork, empathy
EXPECTATIONS:
Identify stories, myths and legends from a variety of cultures Use of tone of voice, gestures and other non-verbal cues to help clarify meaning when describing events and telling stories
TECHNICAL REQUIREMENTS:
Library or similar informal space – stool or chair, access to microphone if presentation in gym
Prologue to the Performing Arts / Prologue aux arts de la scène
The Distillery Historic District
15 Case Goods Lane, Suite 413
Toronto, ON M5A 3C4
Tel-1-888-591-9092  / Fax – 416-591-2023
Imagination on the Loose Study Guide – English
Imagination on the Loose Study Guide – Bilingual
Your stories were amazing.  Please don't take this the wrong way, but I LOVE YOU! –  5th Grader, St Vincent Catholic PS

Nathalie is wonderful.  The kids were entranced by her stories and performance… and wanted her autograph afterwards!  She has a wonderful way with children. – Teachers, Forest Glen PS

Nathalie's "L'imagination en cavale" storytelling show is THE best French presentation I've ever seen in a school. The stories were creative and captured the students' interest right from the beginning.  Nathalie was able to involve the audience in the stories without resulting in chaos, and students were so engaged!  I love the fact that this is a bilingual show; the children thoroughly understood the stories and were able to use their knowledge of French.  What a perfect way to promote the French language!  –  Joanne Charbonneau, teacher Pinelands Public School, Burlington
Save
Save
Save
Save