Sometimes the most daunting thing is to stare at a blank canvas or sheet of paper.  Where to start? What to draw? Can I paint?  This course gives accessible, inspiring and creative springboards to get you started.   Exploring colour, stamping, layering, mark making etc, each person will see their own unique style and voice emerge.
Sometimes all you need is an entrance way to get in… you will be amazed at what you can do.
 6 week painting workshop:
DATE: Postponed due to Corona Virus
TIME: 7pm – 9:30 pm
COST: $195 (plus $25 material fee)
PLEASE BRING: sketch book ( 11 x 14″ is a great size)
LOCATION: the Beaches
Private lessons, or group lessons for kids/adults are also available.
Painting is by nature a luminous language

                                 ~ Robert Delaunay
Click here to inquire about online offerings.  Stay safe!  
Testimonials:
"Anybody ever call you a creativity whisperer?  Cause that's definitely your gift, Nathalie!" – Shelley B.
"Nathalie, your calm and reassuring teaching method has brought out the 'inner artist' that I always wanted to be. I find myself sketching and looking at things in a whole new way. " – Patty H.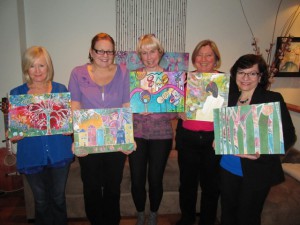 Save
Save
Save
Save
Save
Save
Save
Save
Save