A painting is most definitely a journey… some paintings happen easily without much struggle, others… not so much.  I recently posted some new paintings on my Facebook Nathalie Vachon – Artist page (as works in progress from Flora Bowley's Bloom True e-course so people could see the many layered steps involved).  Here is a peak into the emotional journey that often accompanies each step:
HOME, LOVE, BELONG
STEP ONE:
I dab globs of yellow, red and crimson on palette.  Put music on. Put blindfold on.  Stop, breath deeply and begin.  I dip hands in cool wet paint and begin to execute the objective of step one:  just cover the canvas with paint.   I don't know what colours I am smearing, what mess I am making but I am a pre-schooler riding purely on joy.  Dancing, wiping, dipping, spreading, turning… this step feels like flying.  It always feels like flying before you think, before you become attached to painting something "good".
STEP TWO: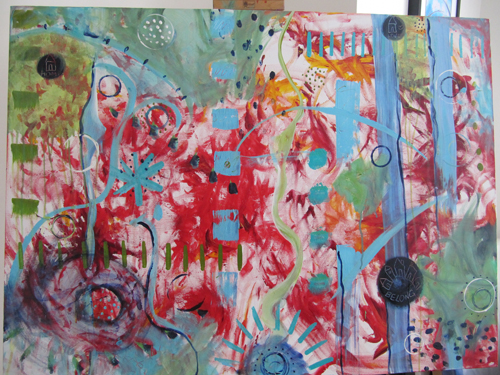 Once canvas is dry, layer on cool colours.  Variety is the spice of life.  I drag paint randomly across canvas. I dip sponge, dip brush in blue, make picket fence lines, dab lid of mason jar in Payne's grey, make circles, skip them like a sonnet around the canvas.  Fly all over with green, dab white, make snow.  Dip pen cap in blue. Infinite and endless, I stamp circles on top of red or along canvas that lay unmarked, untampered.  Step two is where impulse was hiding.   It said make circles with brush, grab skewer, etch out a house, write the words home, it said etch love, etch belong.  There is pure, raw power in spontaneity, in being fully present to impulse.  If a soul can go every direction in the universe at once, it does so in stage two.
STEP THREE: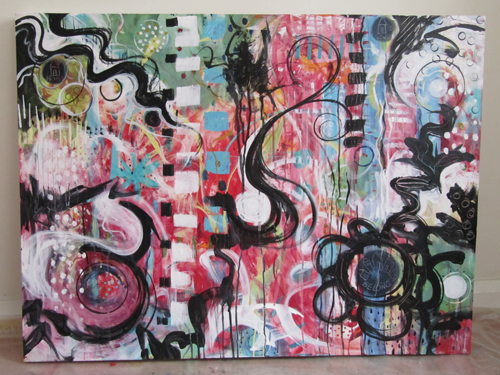 I don't usually paint with black and white.  Instructions:  paint with black and white.   Skinny lines, thin brush, fat sponge, dab, drip, spray, splay, paint, run white right up to black.  Squint eyes, see contrast.  I see mess.  I see a mess of colour and pattern and a noise that I may not recover from.
STEP FOUR:
Add translucent paint… smear fluid acrylics on canvas with thumb, see how magenta changes the white, deepens the black.  Spray water, let it drip.  Wipe off, deepen, add turquoise, watch as depth is created like magic on the canvas.
Dip finger tips in red run them down the canvas like rain on a window.  Try not to be restricted by idea.  Try not to let the mind come in and think this painting through.  This is where the difficult battle begins.  The war between presence and foresight, between head and heart.  I want to hold on to the circles of words.  I want to protect home, don't paint over love, hold onto belong…
STEP FIVE: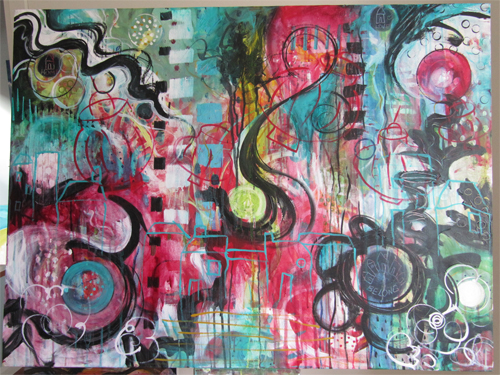 Put in images.  I have a vision of lanterns.  I draw them in with houses over complete mess of ugly colours yelling at me on the canvas.  "You shouldn't have been so wild" it says, "you should have mapped it out" head chides.  I remind myself to trust.  So much of painting is trusting.  Just keep going, be present with every emotion but just keep going.
STEP SIX:
Work with what's working.  I am stuck now for at least three days.  A jumbled mess on canvas, the glory days of step one and two are gone and I have backed myself into a painting I cannot seem to climb out of.  I stare at lanterns, at houses, at circles for days, painfully stuck, unable to figure out what to do next.  Until I finally get angry.  Being stuck and doing nothing is more painful than moving forward in ANY direction, so finally I just get mad.  I grab fistfuls of teal, handfuls of white and Payne's grey and I cover everything that I don't like.  Painting moves.  I move out of fear, finally unstuck (sigh).
STEP SEVEN:
Shape.  I highlight things I like.  Take careful steps as I navigate out of the ugly teenage stage to shape this awkward painting into hopefully a beautiful man or powerful woman.  I accentuate snowy raindrops.  I turn the yogurt container circles into lanterns, fill houses in with texture, leave under-laying dabs and drips to reveal the underbelly or understory or under-struggle of the painting.  I sculpt, I hone, I bring areas I like to life.  I squint, I choose a colour scheme, I outline lanterns and I listen step by step scanning the painting until I like it all.  Until it stops telling me what to do.  Until everything just sits quietly, breathing softly in the corner.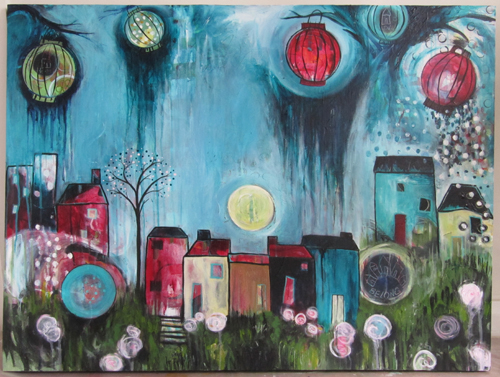 The mark of a good painting is the journey we take in painting it.  The mark of a good life is the journey we take in living it.